Cabin Fever Reliever moved to Des Moines January 26th
Jan 13th, 2019 | By
Des Moines Radio Amateurs' Association
| Category:
Chatter
,
Hamfests, Swap Meets & Classes
Tweet
The Cabin Fever Reliever is now planned for Des Moines.  Allen WØKWM and Rich, WAØJFS will host the event in Des Moines, Saturday January 26th at the Sayloville Event Center 3081 NW Prairie Lane, Des Moines, IA  The event center is located along NW 66th Avenue in Saylor Township.  The format will be similar to the Cabin Fever Reliever in Anita, IA which was hosted by Steve, NØORU.  Steve decided not to do the event this year.  The Cabin Fever Reliever covers many areas.  It provides a winter Ham get together, a swap meet and a chance to break the winter doldrums. Bring your shack extras and see if another Ham wants to buy them.
The is no admittance or table fee, however a donation jar is provided to help offset the cost of rental.  Refreshments and donuts will also be available.  Talk-in on 444.575+  t 151.4 & 146.82- tone 114.8.  Details and a map are below.
Date: January 26, 2019
Time:  7:00 Am till 11:00 AM
Place:  Sayloville Event Center
Address:  3081 NW Prairie Lane, Des Moines, IA
Cost:  Freewill donation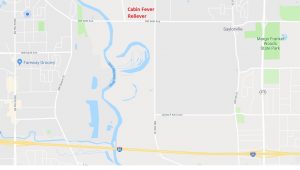 Note: Pictures below are not of actual items to be sold at the Cabin Fever Reliever