Ron Hobbs, NØXWI SK
Jun 9th, 2019 | By
Des Moines Radio Amateurs' Association
| Category:
Chatter
Tweet
We have just learned that long time DMRAA member and past officer Ron Hobbs NØXWI became a silent key early this morning Sunday June 9th, 2019.  A Winthrop Mager award holder and a recent recipient of the Bob Evans award Ron exemplified what cheerful service means in Amateur Radio.  Details of his funeral arrangements will be posted here as the become available.  Our hearts and prayed go out out to Elinor and their family.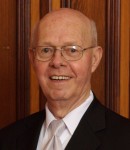 Ronald W. Hobbs, of Des Moines, a friend to all who knew him, passed away Sunday, June 9, 2019. Ron was born October 19, 1934, son of the late John and Pearl (Romine) Hobbs. He grew up in a half dozen different places across the country, but spent a considerable amount of his childhood in Neosho, MO, from whose high school he graduated in 1953.
In 1963, he married Elinor Hoffer of Nevada, IA, and the couple initially made their home in Oxnard, CA, where Ron worked at Point Mugu Naval Station. In 1968, the couple moved to Des Moines, and there Ron began a successful 38-year career with Blue Cross/Blue Shield of Iowa, starting in Data Entry and retiring in 2006 as Director of Security and Compliance.
After retiring, he worked for Per Mar Security, as well as Enterprise Rental, where he helped deliver vehicles to their various locations. He also enjoyed building electronic projects in his spare time.
Ron was also an active member of the Boy Scouts of America, Masonic Lodge, Za-Ga-Zig Shrine and their Legion of Honor, the Des Moines Radio Amateur Association (DMRAA), the American Society for Industrial Security (ASIS), and is a former member of the Merle Hay Kiwanis Club.
Ron is survived by his wife, Elinor; his son, Kevin Hobbs of Johnston; his daughter, Julie (Steven Rouse) Hobbs of Lexington, KY; along with three grandchildren who adored him: Elizabeth (daughter of Kevin), and Max and Rebecca (children of Julie and Steven).
Funeral services will be 10:30 a.m. Saturday, June 15, 2019 at the Glen Echo Christ Church in Des Moines. Visitation will be held from 4-7 p.m. Friday at the Westover Funeral Home. Burial will be in the Nevada Cemetery in Nevada, IA.
Memorials may be directed to Fred Maytag II Scout Center, Mid-Iowa Council, Boy Scouts of America 6123 Scout Trail Des Moines, IA 50321.
Westover Funeral Home
6337 Hickman Road
Des Moines, IA US 50322
Map / Directions
Friday, June 14, 2019
4:00 PM – 7:00 PM
Burial
Nevada Municipal Cemetery
1026 1st Street
Nevada, IA US 50201
Map / Directions
Saturday, June 15, 2019
2:00 PM
Service  10:30 AM
Glen Echo Christian Church
4323 Douglas Avenue
Des Moines, IA US 50310
Map / Directions
Saturday, June 15, 2019