Thanks for making the 2012 DMRAA Hamfest a success!
Apr 22nd, 2012 | By
Kevin Sanders, K0KDS
| Category:
Chatter
Tweet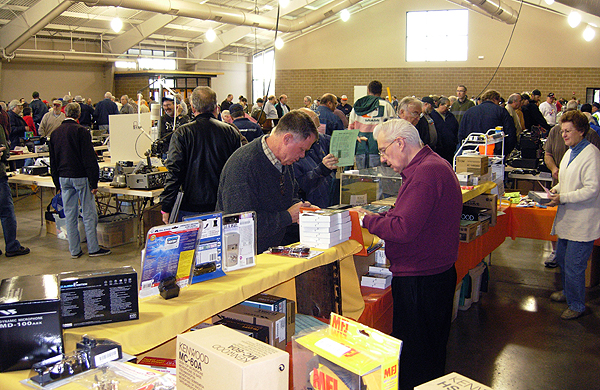 Thanks to everyone that made the 2012 DMRAA Hamfest a success! Several vendors were on hand as hundreds of visitors filled the aisles on a beautiful spring morning at the Iowa State Fairgrounds! The vendors said sales were solid and thanked everyone for their business and hospitality.
The Iowa Repeater Council held a forum at 10 a.m. to a standing-room only crowd. Awards were also given out on Saturday: George Noble KK7FM is this year's recipient of the Robert M. Evans Memorial Award presented by the DMRAA, and the ARRL Iowa Section awarded the 2012 Iowa Ham of the Year award to Richard Nelson, W0HHF, of Cedar Falls.
For a list of door prize recipients, click here.
A full recap of this year's hamfest will be included in the June 2012 edition of the Static Sheet. Planning is already underway for next year's hamfest, which will be held on April 20, 2013.
With this year's hamfest complete, the DMRAA will now look towards its next major event, W0AK Field Day, June 23-24, at Fort Des Moines Park. More event information will be posted on the website as we get further into planning.
If you have feedback about the hamfest or pictures you would like to send to the DMRAA, please send them to info@dmraa.com for inclusion on the website and in the upcoming Static Sheet.