June 16-22 declared Amateur Radio Week in Iowa
Jul 2nd, 2013 | By
Kevin Sanders K0KDS
| Category:
Chatter
,
Uncategorized
Tweet
IOWA GOV. TERRY BRANSTAD DECLARES JUNE 16-22 AS AMATEUR RADIO WEEK IN IOWA
DES MOINES, Iowa – Today, Iowa Gov. Terry Branstad declared June 16-22 as Amateur Radio Week in Iowa to celebrate the efforts of radio amateurs across the state and around the nation. (Proclamation text included at end of release.) Radio amateurs are known for their resiliency, technical know-how and ability to go "off the grid," providing critical communication capabilities when traditional means fail, like cell phones, internet, and public safety radio systems.Amateur radio operators were among the first to report the tornadoes in central Iowa on May 19, and most recently, the tornadoes in northern and northeastern Iowa on June 12.
The proclamation comes days before amateur radio operators will take to the airwaves around the United States in a 24-hour exhibition of amateur radio called Field Day. Field Day is a publicly-held training exercise that helps radio amateurs prepare for emergencies. Skilled work and planning is required to select radio equipment, frequencies, and antennas to facilitate operating under less-than-ideal conditions. During Field Day, operators set up in remote areas, at shopping malls, or even in their own backyards, and get on the air using generators or battery power. Radio operators then try to contact as many other Field Day stations as possible.
The public will have a chance to meet and talk with area amateur radio operators and see for themselves what the amateur radio hobby is about. Showing the newest digital, satellite, high-frequency technologies and even historical Morse code, radio operators from across the nation will be holding public demonstrations of their emergency communications abilities. The public will even have opportunities to make contacts over the air.
For a complete listing of Field Day sites around Iowa, visit 
http://www.arrl.org/field-day-locator
.In the Des Moines area, the Des Moines Radio Amateurs' Association and the Amateur Radio Technical Society organizations will be demonstrating amateur radio at
Fort Des Moines Park, 7200 SE 5th Street in Des Moines
. Setup and antenna-raising will begin at 9 a.m. on 
Saturday, June 22
 with 
official activities beginning at 1 p.m.
 and continuing non-stop for 24 hours 
until 1 p.m. on Sunday, June 23
. They invite the public to come and see amateur radio's modern capabilities. Visit the DMRAA Field Day website at 
http://dmraa.com/fieldday
 for maps and more information.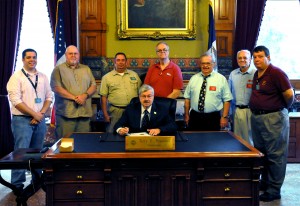 ATTACHED PHOTO: From left to right: ARRL Iowa Section Public Information Coordinator Kevin Sanders K0KDS, ARRL Iowa Section Emergency Coordinator Jim Moreland W0BNW, Iowa District 6 Emergency Coordinator Steve Jones WA6GFD, Iowa Gov. Terry Branstad (sitting), Mid-Iowa Skywarn Association President Tom Reis N0VPR, ARRL Iowa Section Manager Robert McCaffrey K0CY, ARRL Midwest Division Vice Director Rod Blocksome K0DAS, and ARRL Iowa Section State Government Liaison Lennie Thompson N0LCT.
PROCLAMATION TEXT:
WHEREAS, the state recognizes the services amateur radio operators provide to our many emergency response organizations, including FEMA, DHS, and Iowa Homeland Security and Emergency Management; and
WHEREAS, these same individuals have further demonstrated their value in public assistance by providing free radio communications for local parades, public fundraising events, fairs and other charitable public events; and
WHEREAS, the State of Iowa recognizes and appreciates the diligence of these "hams" who also serve as weather spotters in the Skywarn program of the National Weather Service; and
WHEREAS, amateur radio once again proved its undisputed relevance in the modern world in 2005 by providing  emergency communications when other systems failed in the devastation of Hurricane Katrina and again in 2011 in severe weather outbreaks in Joplin, MO., and the Southeast, and the earthquake and tsunami catastrophe in Japan; and
WHEREAS, these amateur radio services are provided wholly uncompensated; and
WHEREAS, the ARRL Field Day exercise will take place on June 22-23 and is a 24-hour emergency encampment exercise and demonstration of the radio amateur's skills and readiness to provide self-supporting communications even in the fields without further infrastructure; and
NOW, THEREFORE, I, Terry E. Branstad, Governor of the State of Iowa, do hereby proclaim the week of June 16-22, 2013 as AMATEUR RADIO WEEK IN IOWA.